Origin of inspiration
Since the first Flaretech mechanical keyboard launch, it has provided players with switch performance and responsiveness that have never been experienced before.We have always upheld the spirit of boldness, inclusiveness, and innovation and constantly released ourselves!
What do we have in ABM084
The classic layout patent
People have paid more attention to the 60%/70%/90% layout in recent years. We aim to continue to inherit the 87 classic designs with the knob structure of the CD702s.The new ABM084 Divison series will use an 80% layout (84key + 1 aluminum knob + 2 multimedia buttons), and it also obtained the patent.
Aura keycaps
Why is it called an aura keycap? Just because it not only has a super-recognizable appearance but also has an excellent touch. First launch in two colors with PBT five-side dye-sub KDA profile keycaps(The TTC switch only).
Spiritful Gradient
It has an exotic spirit and a matte-smooth simple surface, which contains enormous energy.
Ash Avocado
It's an interwoven three-color palette inspired by the freshness of avocado with slightly calm grey tones. Lively yet steady.
Durability and stability
The highest configuration version released is equipped with four kinds of optional TTC mechanical switches with TTC hot-swappable sockets. Compared with the traditional PCB with hot-swappable sockets, TTC has a longer life (10,000 times) and dramatically improves durability and stability.
Innovative sound-absorbing structure
We have also made a significant breakthrough in typing sound, which everyone cares about most.
Our team simulates the innovative experiment of cavity silencing, perfectly combining technology and sound design. Both the bottom and the interlayer are made of PORON silencing cotton. They are precisely calculated to match the internal structure of the product. It also became the finishing touch to the experience.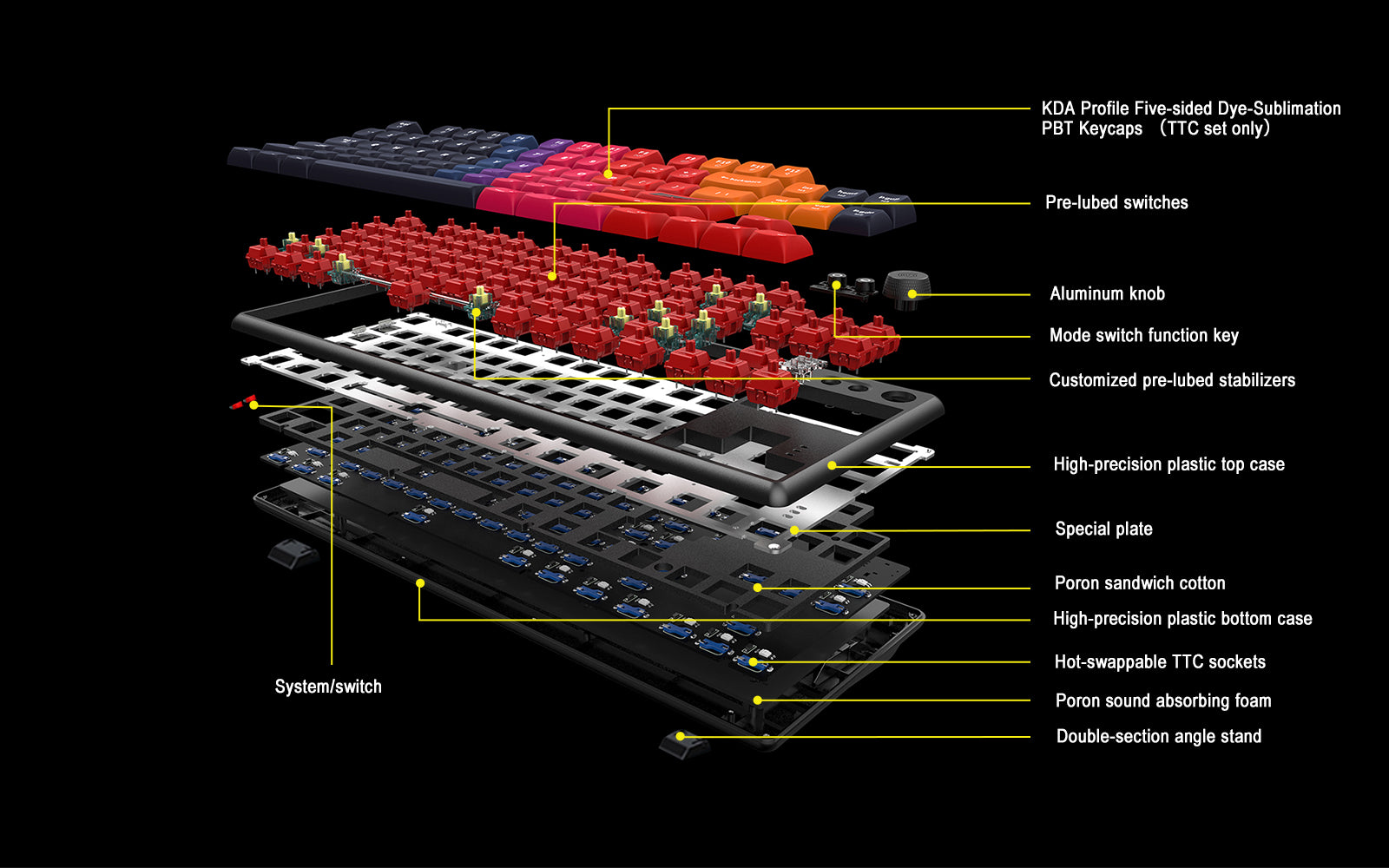 Fully programmable for higher playability
The keyboard supports a three-mode connection, wired/ 2.4g/ Bluetooth to provide better selectivity and playability.
It is worth mentioning that all products in the ABMxCIDOO series are equipped with fully programmable driver and music software. Any combination of composite keys without conflict, millisecond response speed real-time synchronization.
Ergonomic design
We also need to confirm your comfort during the experience based on ensuring fun. The hanging waist design with KDA profile keycap can reduce the strain on the wrist. There are also adjustable feet on the back of the keyboard, so you can choose the height that suits you.
If you are a music\game lover, this mechanical keyboard will definitely amplify your senses.